Internet is a main channel of you sales?

You're just going to start using it?

ArsData can help you.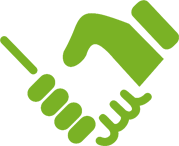 If:
you're tired of entering data into your website manually (from other sites or offline programs)
you want to publish your content on many places of the Internet at the same time
automatic data dowloading from your wholesalers would save your time
then Online Integration is just what you need.

We make effective integrations such as:

Shop to Allegro

all products in store automatically put on sale on auction portal

Wholesaler to shop

automatic offer update, based on changes in wholesalers system(s)

Website to website

publishing content on one site, causes automatic placing it on the other site(s)

Offline to online

data from many internal applications exported into one aggregate web application




What are the benefits?

no need to insert the same data into several places
more time for creative work
lower labor costs, thanks to tasks executing themselves
no more mistakes when copying data




Tags: shop to allegro, allegro integration, wholesaler to shop, wholesaler integration, www integration, online integration, website integration, application integration, software integration, portal integration, web integration, offline to online, moving data online, export data online, import data online